If your Ember continues to disconnect or is unable to reconnect with your mobile device, there are a few quick steps that can be taken to allow a successful re-pairing and/or re-connection from your mobile device to your Ember Mug.
Step 1: Toggle Bluetooth
Turn the bluetooth OFF on your mobile device from the bluetooth settings. After doing so, please allow at least 30 seconds in the OFF state before proceeding to turn ON the bluetooth connectivity.
Step 2: Perform a Factory Reset on your Ember
The factory reset will remove all possible corrupt data that is preventing bluetooth connection.
To do this, press and hold the power button on the bottom of the mug for about 14 seconds until you see the LED flash red. After the red light is seen, please release the power button and allow the mug to pulse back to white.
Step 3: Remove from Bluetooth Settings
The "Ember Mug" will still be visible in your bluetooth settings after a reset is performed.
You will need to remove and forget the previous bluetooth connection for any device that may still be connected to the Ember. If any previous connection still exists in your bluetooth stack, Ember will be unable to re-connect with your mobile device.
To do this:

If Android:
1. Go to settings.
2. Click on bluetooth.
3. Click on the settings gear associated to the Ember Mug.
4. Click on Un-pair.
If iOS:
1. Go to settings
2. Click on Bluetooth
3. Click on the Ember Mug information button
4. Forget this device
There are many times, having multiple bluetooth connections or previous connection attempts can affect how a new device connects.
Step 4: Pair your Ember
Once all of these steps are done, please proceed with pairing your mug and the problem will be fixed.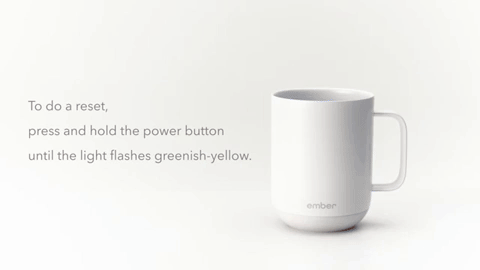 To obtain warranty service, a return authorization must be requested from our customer service team. To request a return authorization, please contact Customer Service here. You must deliver the Product, in either its original packaging or packaging providing an equal degree of protection, to the address specified by Ember. Unless prohibited by applicable law, Ember requires you to furnish proof of purchase details and/or comply with other requirements before receiving warranty service. In the event that any warranty service is necessary, please see Ember's Warranty Policy for further details.